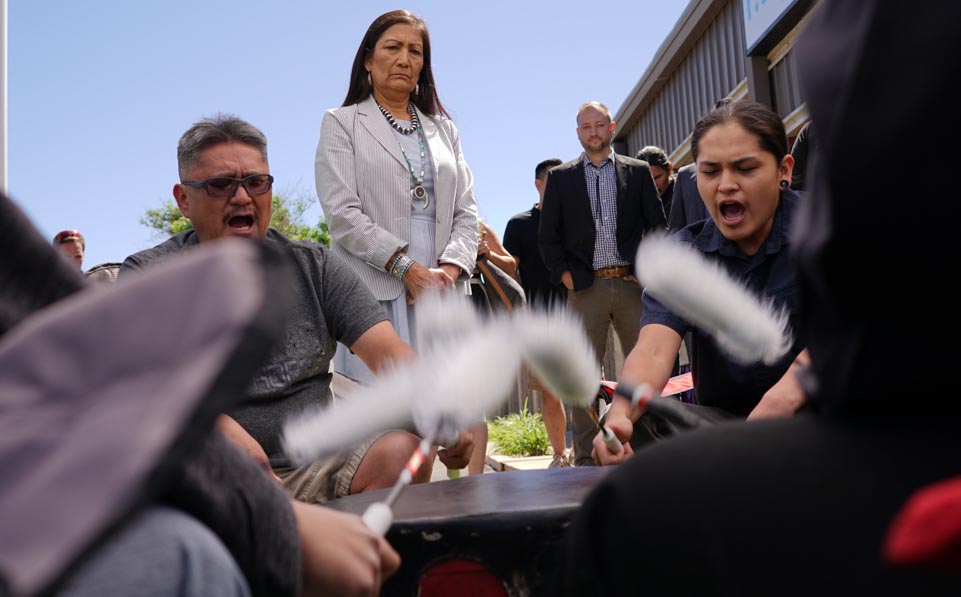 Our Mission
To preserve the future and quality of Native American jewelry.
The mission of T.Skies Jewelers Co-Op is protecting the authenticity of and promoting the future of Native American Jewelry making.
T.Skies Co-Op was founded by the artists of Turquoise Skies Gallery, an established jewelry store which proudly displays the rich culture of the American Southwest. From precious gemstone jewelry to luxury art pieces, the Gallery offers a wide variety of handcrafted Native American art.
In looking at the jewelry industry as a whole, the T.Skies artists recognized there were many problems. Native artists were being abused and misrepresented. The non-profit Co-Op grew out of the desire to help local indigenous artists have a place to sell their work where they would be treated fairly and receive support for their craft. Co-Op members can market and sell their work directly to the public. The organization was founded and is operated by the Native American members. All business decisions are made by the artists themselves.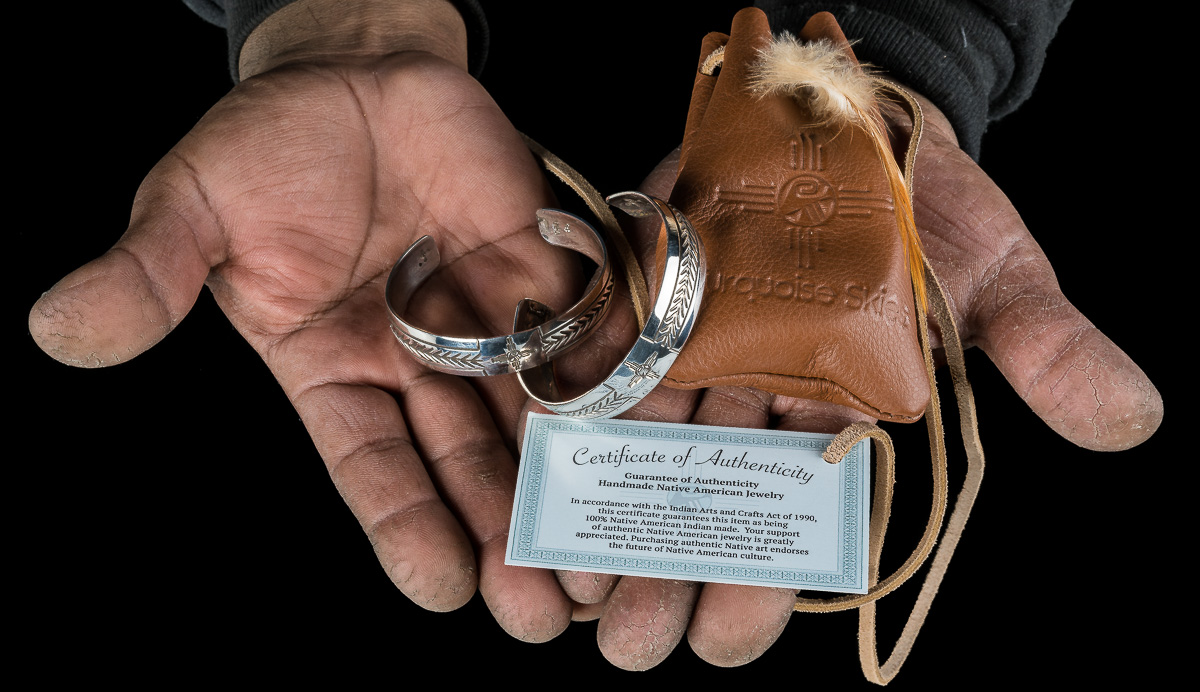 Art is culture. Jewelry is our art.
"If I cannot speak, then my story cannot be heard" – Sam Manygoats
The world of Native American art has changed over time. Working in the industry, we've witnessed that change, and the problems it has created. All too often what's being marketed as Native American art is actually mass-produced factory art created for consumption in foreign countries such as China, India and the Philippines. This deception is a serious issue as it devalues authentic handcrafted Native American art, jewelry and culture
We make an enormous effort to:
Protect Native artists from industry-related abuse
Encourage cultural sensitivity to Native beliefs
Train new talented Native artists
Supply the world with authentic Native art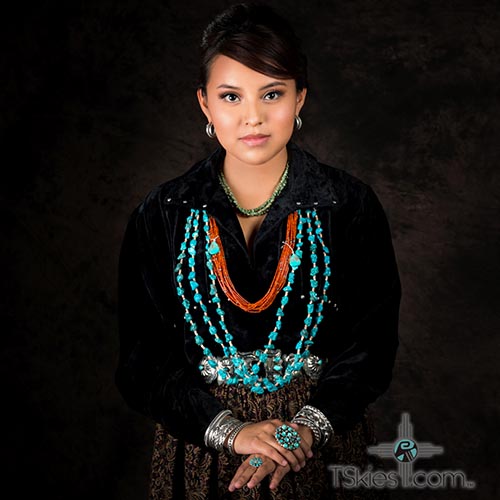 Some issues Native artists face:
Native American style jewelry is inherently tied to Native culture. Yet today it is being outsourced to overseas manufacturers to be mass produced.
The high school drop-out rate on local Native American reservations has grown alarmingly high.
High demand for Native jewelry has made the style a big target for unethical businesses. The authenticity of the work of Native American artists is being put at risk by foreign manufacturing. Mass production of Native style jewelry by non-Natives devalues the art form. If a culture cannot produce their art, it will vanish.
National chains and online retailers offer jewelry they say is "Native-style", but they also outsource their manufacturing to other countries. This means that a great deal of what is labeled Native American is actually mass produced in foreign factories and has no connection to the culture where the designs originated. The pieces are also generally made of cheaper materials in order to increase the company's profit margin. These businesses are profiting off of stereotypes and misrepresentation.
This misrepresentation along with unethical business practices mean authentic Native jewelry created by an actual Native artist can be hard to find. Many artists are unable to sell their work due to cheap copies. They pay more for higher quality materials and struggle to make a profit.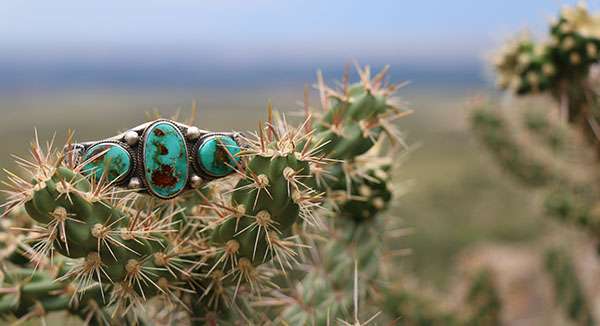 The Solution
TSkies Jewelry Co-Op is committed to helping Native artists overcome these obstacles and be successful in creating and marketing their jewelry. Our mission is maintaining the quality and authenticity of Native American jewelry, and to preserving the skills and techniques required to produce fine handcrafted pieces. To accomplish that goal, we encourage new young artists to enter the industry through mentoring and internship programs. We not only teach them jewelry-making skills, we show them how to market their work and how to share their unique voices effectively.
Our goal is also to make the industry as transparent as possible. We want our customers to meet the artists behind their jewelry and buy directly from them. We interview artists in their homes and workshops to share their stories and culture. We produce videos, articles and photography that will immerse visitors in the beauty of Native culture and community.
Our founding company, Turquoise Skies, creates work for artists to boost their income. Turquoise Skies Signature Lines are a blend of modern techniques and traditional designs. The profit made from those lines allows our artists to have consistent work while still having time to focus on their high-quality one-of-a-kind pieces. We provide a safe, collaborative and well-equipped work environment and they provide the artistic skill and vision.
You can help us achieve our goals in a number of ways: by donating to our non-profit Co-Op, by being an informed buyer and purchasing only from legitimate sources, by spreading the word about our artists, by following us on social media and interacting with our community. We appreciate all of the support we receive.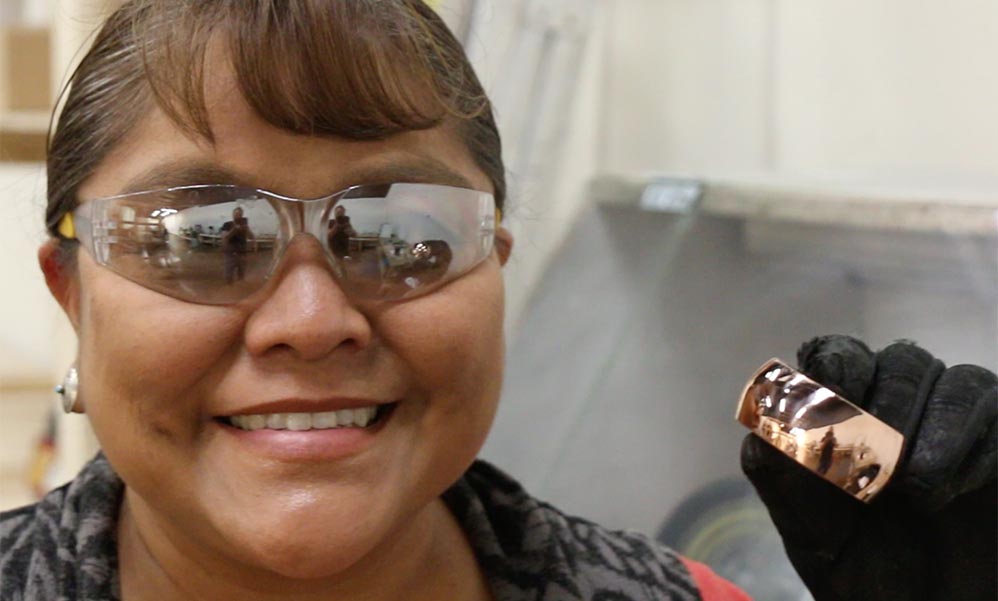 You can help us by donating to this non-profit, purchasing jewelry from legitimate sources, spreading the word, following us on social media and interacting with our community.
How Our Non-Profit Operates
We put donations to work to support our mission to empower Native American artists.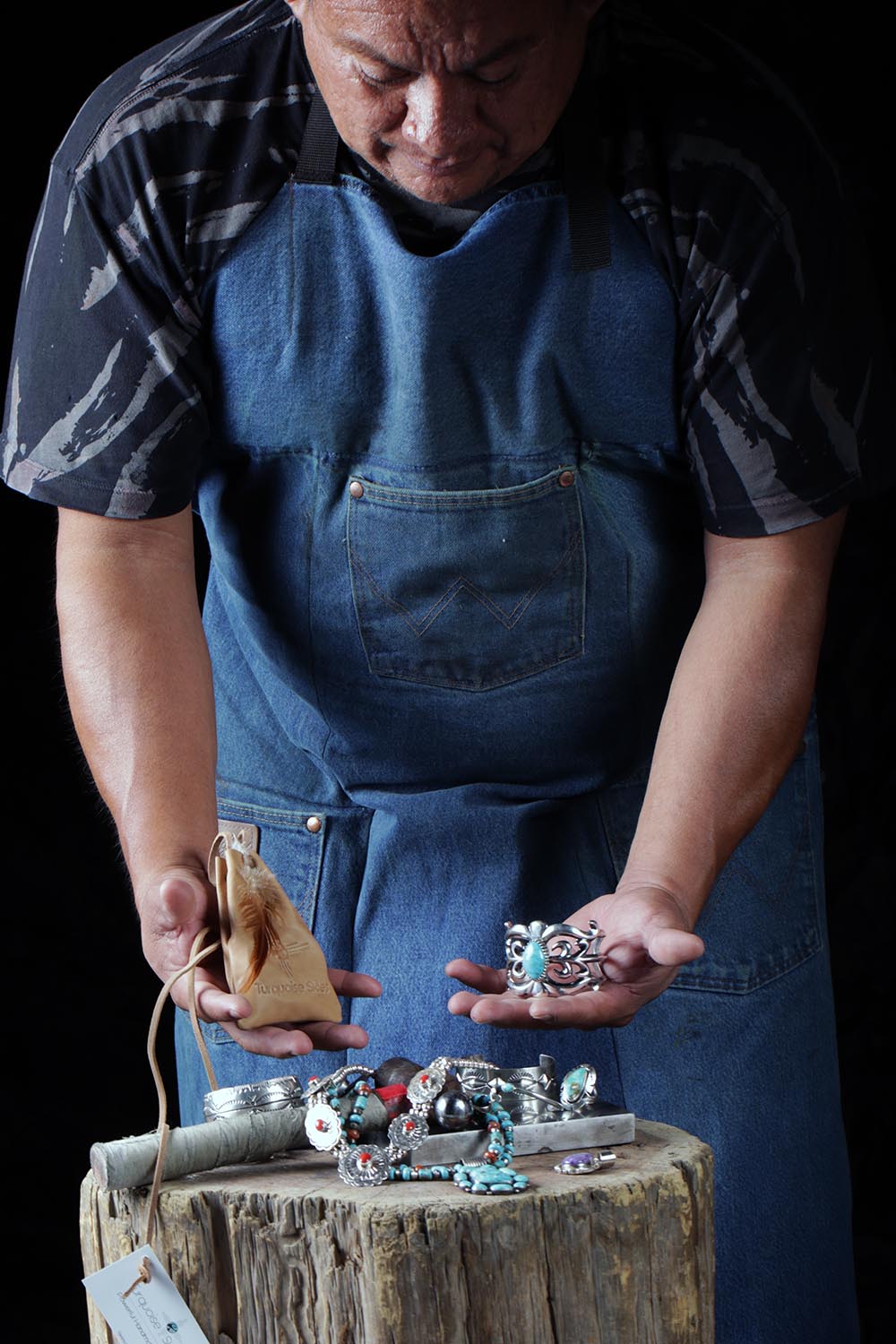 Workspace for local artists
Workspace, access to tools, photography services, including cameras and equipment for artists to use, marketing and business advisors to help artists start their own business (which each member is encouraged to do), and collaboration for events and sales. Many of the tools shared by the Co-Op are ones that individuals would find difficult to purchase, such as a 3D printer, offering a real advantage to the artists. There is also access to various marketing platforms and social media available to members.
Sales for local artists
Another aspect to Co-Op membership is the opportunity for artists to sell their work through the Turquoise Skies Gallery. Gallery space is open to the public and artists working at the Co-Op can sell their pieces to customers on days that they are there. Each artist takes their jewelry home with them when they leave.  Co-Op members who are up to date on their monthly dues for the previous three months receive 90% of the sale price of their work sold through the Gallery. Of the rest of the sale price, 5% goes for the cost of the sale and the other 5% goes to the Co-Op for expenses.
All items sold on our shop are of the highest quality. Our commitment to transparency about the quality of the material used is how we build trust in the community. Artists and dealers can list their work on this site themselves and you will be buying art from them.
We promise to:
Sell jewelry directly from authentic Native American artists and reputable Native American art dealers.
Use decades of industry expertise to identify and avoid the work of artists or dealers using low-quality materials or stolen designs.
Provide information about the artists and dealers we work with.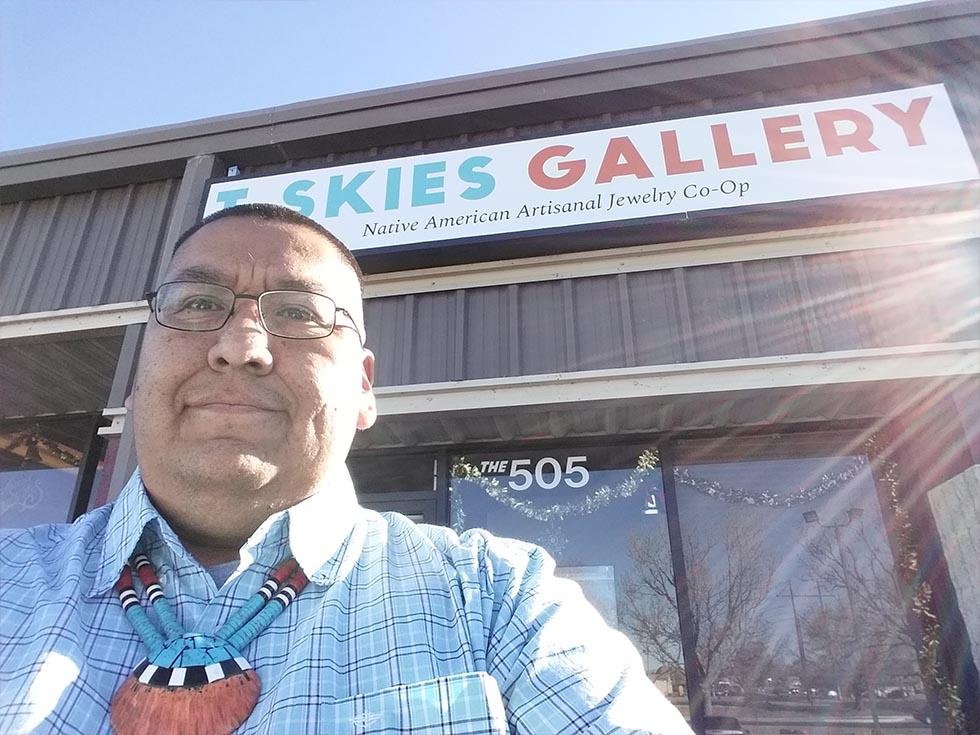 Precious natural gemstones have been valued throughout history. These stones have spiritual, cultural and economic value. For these reasons, they are subject to imitated with lower quality or synthetic materials. We have noticed a huge increase in the misrepresentation of turquoise and other precious gemstones over the years. Unethical sellers in the industry have been selling fake and imitation stones as natural quality.
We are committed to fighting misrepresentation in the marketplace because we respect the value of natural materials and precious gemstones. For this reason, we have created resources such as guides, artist profiles, and educational blog posts. Feel free to review these before making a purchase.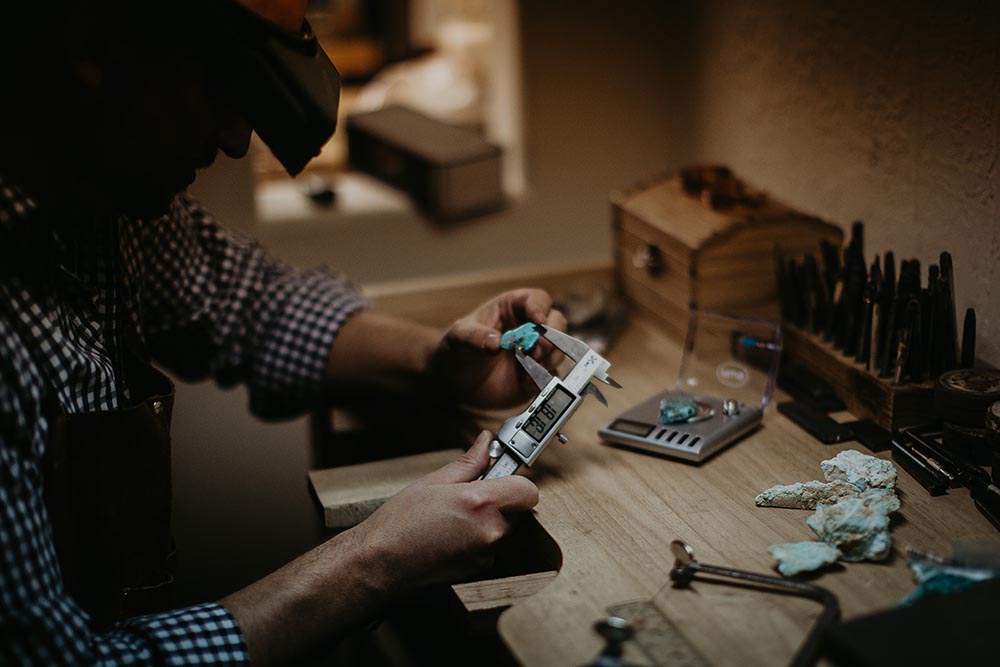 High School Recruitment
Turquoise Skies actively seeks to work with high schools in indigenous communities,  sharing with students the potential for affordable college education and job opportunities.  Working with CNM, we can offer students help with the acceptance into the jewelry program and even grant scholarship opportunities.
What opportunities do we offer highschool students?
We are proud to offer scholarships to young aspiring jewelers to attend select jewelry- making programs. We're committed to making the transition from high school to trade school and college jewelry programs as easy as possible.
CNM Jewelry Program at Fuse Maker Space
CNM offers an affordable option for Native American students. The jewelry program teaches the fundamental skills needed to be a jeweler in the industry.  (Less the cost of tools and materials, classes will almost be free.) We hope to address these expenses with scholarships.
Read our review of this program here!
Internship program
Students from the CNM campus can apply to join the co-op as interns while in the Jewelry program. The goal of the internship is to teach new and upcoming jewelers real-world experience in manufacturing and sales as well as enhancing skill sets that are sought after by companies in the industry. With these assets, the jeweler has a competitive edge in the job market. We want to offer both school credit and paid opportunities for interns.
Continued Co-op Membership
Jewelers may continue with Turquoise Skies as members of the co-op. These jewelry artists will continue to gain real-world jewelry experience through manufacturing for the local jewelry gallery as well as wholesale to stores around the world and online.
Jewelers will be encouraged to design their own pieces for both the gallery and wholesale markets.  They will have the opportunity to sell these pieces in the gallery and at co-op funded shows.
The new jewelers generally do things like polishing, finishing off the jewelry, learning the mixtures of pickle acid, and fire barrier protection for jewelry, etc. They will clean up in the shop and keep the workspace clean and organized. They are also responsible for making sure there are sufficient materials in stock.  Although this may seem insignificant, the knowledge of these things will carry over to being a professional jeweler.
Learning about polishing, how to be fast and learning the different unique properties of different metals and how they polish will be an essential focus.  New jewelers will also clean up castings.
Once these new jewelers have developed basic skills, they will be eligible to test for certification as a C-AA level jeweler. Each level of jeweler increases with skills and abilities. AA is the highest level and most skilled. We intend to align our level system with the industry standard.  To be certified, jewelers must be proficient, with a baseline set of skills as well as be tested for quality and speed.
Do we offer job and career services for artists?
We're happy to help our artists find job opportunities in the industry. Starting a career in a nationally recognized jewelry store is competitive we are there to help and advise you every step along the way! T.Skies actively contacts these companies to help our jewelers apply in the competitive market.
Starting Your Own Business
Not all jewelers want to work for a corporation. Those who want to start their own businesses have access to a range of resources at the co-op including business consulting, photography, graphic design and other marketing services.
What other programs do we offer for young artists?
The T.Skies apprenticeship provides on-the-job training and valuable marketing and business information. We are able to certify jewelers with industry-standard skills and offer an internship for credit at CNM. Please email sheyenne@tskies.com if you're interested in learning more!